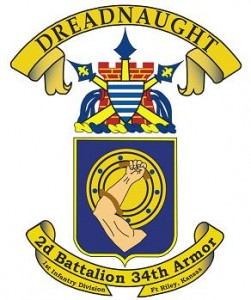 The 2nd Battalion, 34th Armored Regiment, 1st Heavy Brigade Combat Team, 1st Infantry Division will hold an uncasing ceremony at 11 Friday morning at building 727 on Fort Riley's Marshall Army Airfield.
The "Dreadnaughts" recently returned from a yearlong deployment in support of Operation Enduring Freedom. Throughout the duration of the deployment the unit conducted numerous combat air-assaults in the Kandahar Province region alongside their Afghan National Army partners.
The uncasing ceremony signifies the brigade's official return to Fort Riley. The ceremony is open to all friends, Family members and community leaders who wish to formally welcome the Dreadnaughts home as they re-enter the training cycle and prepare for future missions.