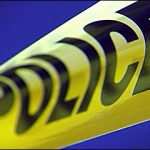 The Riley County Police Department has released more information on the weekend shooting that left one Manhattan man hospitalized.
As first reported on KMAN Monday morning, officers with the RCPD responded to the intersection of North Manhattan Avenue and Flint Hills Place, where they discovered Marcus Cooper, 51, of Manhattan with a gun shot wound, with the perpetrator identified as Tyrell Brown, 26, also of Manhattan.
According to a press release from RCPD Lieutenant Josh Kyle, Cooper gave Mr. Brown a ride to church earlier that morning.  While at the church, Brown began demonstrating bizarre behavior and was asked to leave.  After the service Cooper found Brown sitting in Cooper's vehicle.  Cooper allegedly did not feel comfortable being alone with  Brown so he asked another member of the church, Clayton Burgess, 51, to ride with him as he gave Brown a ride home.
As the three men approached Brown's address, Brown produced a handgun from a bag he was carrying and a struggle ensued.  During the struggle Cooper was shot in the right arm with the bullet coming to rest in his torso.  Cooper and Burgess were able to get the gun away from Brown and call the police.  Brown remained in the vehicle until the police arrived.
Brown was arrested on two counts of Attempted 2nd Degree Murder. He is still confined in the Riley County Jail on a $250,000 bond.