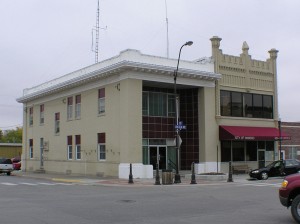 Wamego city commissioners are putting the city's 2012 plan in place. At Tuesday's Commission meeting, City Manager Merl Page said the City received a request from the Kansas Department of Health and Environment for the right-of-way to probe and take water samples from in and around the downtown area. According to Page, there is currently no formal agreement in writing, but he asked for authority for the City to sign the completed documents after review by the City Attorney Jake Pugh. Approval was granted.
In other business, the Commissioner's and City Staff have scheduled a 2012 Planning Retreat January 30th. They will be looking at projects currently underway and making their wish list for the year.
The City's Property and Casualty Insurance will expire in April. Page said the policy carries a three-year term and the current company offered another three-year renewal with a 1 percent increase. Commissioner Bob Morse feels more companies should be given the opportunity to bid. Page will send letters of request within the week so the Commissioners can do a comparative analysis at the January 30th 2012 Planning Retreat.
Things are moving forward on one of the U.S 24 Corridor Plan's. Page reminded the Commission of receiving a $223,000 grant from the Kansas Department of Transportation for the Corridor Management Improvement Plan for the area of Kaw Valley Road and U.S 24. Page said he learned there may be additional funding available for additional projects in that planned area. He asked the Commission for authority to further investigate and come back with a formal resolution. They approved.
In other business, the Commission tabled a resolution to the 2008 Storm Water Master Plan that would look into the Community Rating System in relation to flood insurance required by FEMA. According to Page, the City is currently in the process of qualifying for Flood Insurance credits through the Community Rating System, and there are commercial district sections that were development rated that do not qualify within the current matrix, and a storm water policy needs to be adopted for that area in order to favorably score toward a reduction in flood insurance rates. .