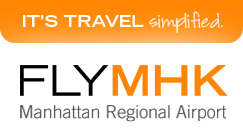 Manhattan Regional Airport officials are making quite the impression on prospective new airlines.
Lyle Butler, President and CEO of the Manhattan Area Chamber of Commerce, says additional airlines would help with some possible flight problems.
"It would give us that cover that, should an airline change it's schedule or go elsewhere, you've got another airline to work with," Butler told Riley County Commissioners Thursday. "I think that only benefits us."
Butler says Airport Director Peter Van Kuren has approached airlines about potential flights going west. He says a couple of airlines have reportedly been favorable about adding flights to the western half of the country, though no specifics were given.
Butler added that the airport is looking into upgrading from 50 passenger to 70 passenger jets.