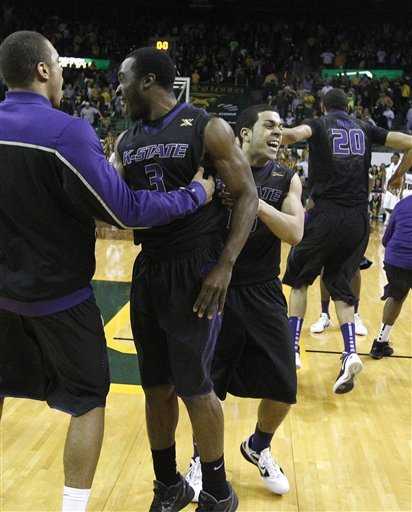 WACO, Texas – Junior Jordan Henriquez blocked Quincy Miller's go-ahead shot with two seconds remaining, as Kansas State held on to post a 57-56 win over No. 9/10 Baylor before a sellout crowd at the Ferrell Center on Saturday afternoon.
The win snapped a two-game skid and gave the Wildcats (18-8, 7-7 Big 12) their second Top 10 win of the season and the seventh of head coach Frank Martin's five-year career.  His seven Top 10 wins passed Jack Hartman (six) for the second-most in school history and now trail just Naismith Hall of Famer Tex Winter (10).  Martin now has 19 Top 25 wins in his tenure, including seven away from home.
Freshman Angel Rodriguez and junior Rodney McGruder paced the K-State attack with 15 points each, while senior Jamar Samuels and Henriquez added nine points each.  Rodriguez, who was coming off a 0-of-8 effort with seven turnovers against No. 4/5 Kansas on Monday, was stellar on the day, knocking down 7-of-12 field goals, including 1-of-3 from 3-point range, to go with six assists, career-best four steals and three rebounds in a career-high 39 minutes of play.  McGruder was 6-of-11 from the field, including 3-of-6 from beyond the arc.  Henriquez, who added a team-high seven rebounds, tied Manny Dies' school record for career blocks (121) with three on the day.
Senior Quincy Acy led three Baylor (22-5, 9-5 Big 12) players in double figures with 14 points, while sophomore Brady Heslip and Miller posted 13 and 12 points, respectively.  Miller also collected a double-double with a game-high 11 rebounds.  The Bears became just sixth team this season to out-rebound the Wildcats, as they held a 34-29 edge on the glass.
The two teams battled through 12 lead changes and three ties in a tight second half.  Baylor took a 51-49 lead on a jumper by Miller with 6:36 remaining before Rodriguez found Henriquez for a dunk and the foul — the fifth on All-American Perry Jones III.  Henriquez completed the traditional 3-point play to give the Wildcats a 52-51 lead with 5:05 to go.  After a missed free throw by Pierre Jackson, McGruder connected on his third 3-pointer to give K-State its biggest lead of the half at 55-51 with 3:55 remaining.
However, the resilient Bears fought back to take the lead, as Jackson connected on a 3-pointer from the top of the key for a 56-55 edge at the 2:11 mark.  After a timeout by Martin, Rodriguez dished out his sixth assist with a feed to Henriquez for a dunk and the lead for good at 57-56 with 1:55 left.
Trailing by as many as nine in the first half, K-State made a furious rally in the last five minutes before halftime to take a 32-28 lead into the break.  Trailing 20-11 with 7:03 to play in the first half, the Wildcats scored 21 of the last 29 points, including a 3-pointer by Samuels at the buzzer.  The squad took its first lead at 25-24 on a trey by McGruder at the 1:58 mark then lay-ups by Gipson and Rodriguez gave them a 29-28 lead before the Samuels' 3.
After allowing 30 points off 20 turnovers in the first meeting on Jan. 10, K-State turned the game on Baylor in the second meeting, forcing 18 turnovers with 10 steals, and out-scoring the Bears, 18-13, in points off of turnovers.
Kansas State returns to action on Tuesday night when the Wildcats travel to Columbia, Mo., to play No. 3/3 Missouri (25-2, 12-2 Big 12). The Wildcats won the first meeting, 75-59, in Manhattan on Jan. 7, but they have lost four straight at Mizzou Arena. It will be the last scheduled meeting between the two schools, as Missouri departs for the Southeastern Conference in 2012-13.  The game will tip at at 6 p.m., and can be heard on Sports Radio 1350 courtesy of the K-State Sports Network.
(Story courtesy of KStateSports.com)