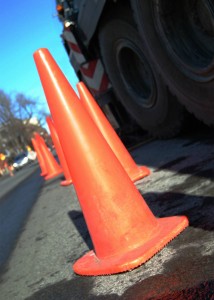 K-18 hasn't had much construction lately that has interfered with drivers' ability to get where they are going but depending on the weather, but all that is going to change.
In March, KDOT will start construction on the turnoff at Scenic Drive and there are many questions about what could be put there to keep traffic flowing and drivers safe.
There was original talks of taking away the option of a left hand turn at the junction and turning it into a T-Shaped intersection.
Riley County Police Director Brad Schoen said he would like to see a different option than the T intersection used altogether and after talks with KDOT their might be a new plan in the works.
"I think the goal is to not let them make those turns there and try to force any of those left turns that are going to happen down to Wildcat Creek where that traffic light is," Schoen says.
But Schoen is urging drivers to find alternate routes during those times where there will heavy construction.
"Traffic is like water," Schoen adds. "It finds the path of least resistance. I would just urge people to be patient and try to avoid that K-18 corridor"
Alternate routes for getting to and from Manhattan include I-177 and McDowell Creek Road.