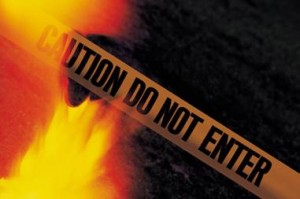 The danger of an electrical fire grows during the winter months, causing millions of dollars in damage and causing chaos for those whose lives it touches.
Blue Township Fire Chief Eric Ward says fire departments nationwide, but especially in the heartland, see an increase in electrical fires during the colder months.
"A lot of that occurs because of misue of heating equipment and things of that sort," Ward said.
Electrical appliances, especially, are at risk. Checking the wiring to things such as space heaters and coffee pots before you use them can save lives. Ward advises you to look for unusual wear on electrical appliances.
"If there is frayed wiring," he says. "If the insulation on the wiring has become cracked because it's gotten brittle, or if it's gotten run through. Occasionally, people will run wiring, especially extension cords, in locations where it might get walked on."
Children are another factor in some electrical based fires. According to Ward, they may knock over items such as a space heater and he recommends purchasing one with an automatic shutoff if it becomes too hot. Some other tips to help prevent electrical fires include: using safety closures to "child proof" electrical outlets and keep clothes, curtains and other potentially combustible items at least three feet from all heaters.
Ward says, on average, electrical fires claim the lives of 280 Americans.