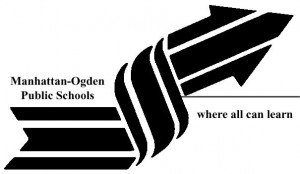 The Manhattan – Ogden school board had a full agenda at their Wednesday night meeting at the Robinson Education Center.
The meeting started off with the usual topic of construction.  A change order for the Theodore Roosevelt Library shelving unit was the first to be discussed, but that wasn't the only thing needed for Theodore Roosevelt.
Trisha Brooke-Fruendt, the program manager, explained to the board that there was a void within the concrete slab in the old gym, which is to become the new library.  The board passed unanimously to fix the void.
Dean Youngers, the project manager, gave a rundown of the remaining phases of the Manhattan High School West project during the meeting.  Youngers said that they should be completed by the second week in August.
Two representatives of the Manhattan High school booster club made an appearance before the board to present their idea to fund raise for synthetic turf at Bishop Stadium.  The estimated cost of the synthetic turf could range from $750,000 to $1 million.  The Booster Club is looking to have the rights to name the field to increase interest for donors.
Carol Adams, Executive Director of Teaching and Learning for USD 383, brought to the board an informational piece concerning the Kansas State University Clinical Partnership.
The board was also given a legislative update concerning two specific topics.  The first had to deal with Governor Brownback's funding formula and the other had to deal with the second count date.
The new business item on the agenda concerned the student transfer policy and procedures.  The board voted 5-2 with Pete Paukstelis and President Doug Messer voting no.  The issue will be brought back for another reading at a future regular business meeting.