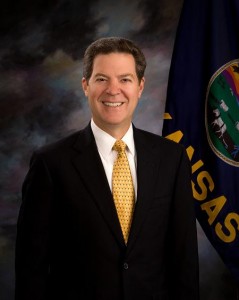 'It's going to be a fight.'
Those are the words of Governor Sam Brownback as his administration readies to battle Washington, D.C., over funding for the National Bio- and Agri-Defense Facility.
"I think we're going to get this done," Brownback said during a Thursday morning teleconference with reporters. "It's going to be difficult as we work through the process. The congressional delegation is well focused and doing an excellent job in support of it."
In a budget presented Monday by President Barack Obama, the administration requested $150 million in the current year, of which only $50 million was appropriated by Congress, which the White House says is insufficient to begin construction.
Obama is asking the Department of Homeland Security to reevaluate the project, while spending $10 million to increase the amount of research being done at Kansas State's Biosecurity Research Institute. Brownback says to expect these kinds of cuts nationwide over the next several years, regardless of the outcome of November's Presidential Election.
"I wouldn't say we're being played anymore than any others," Brownback said. "When you have a federal government that is this out of balance and has a budget control act and, so, is looking out a year or two down the road saying 'how do we get within this cost constraint?', they're looking at everything."
While NBAF has the support of the Kansas Congressional delegation, Brownback noted it also has a lot of support in the House of Representatives, as well as the Obama Administration, itself. He indicated that he had spoken with Agriculture Secretary Tom Vilsack and Homeland Security Secretary Janet Napolitano about the future of the facility in Manhattan and says he is certain NBAF would get built regardless of the budget fight, saying state officials were working with federal representatives to decide how best to move forward.
Full audio of the NBAF portion of Brownback's teleconference can be found above.