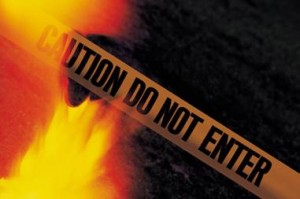 Fire destroyed a house that was under construction in the 2700 block of Browning Avenue Friday morning.
"We arrived on scene and found heavy smoke coming from a two-story house that was under construction," Ryan Almes, Deputy Manhattan Fire Chief, says. "It was nearing completion, but our crews ran into some spots where the fire had damaged the home structurally."
Almes says fire fighters were unable to extinguish the fire from the inside because of those structural issues. It will also hamper an investigation into the cause of the blaze.
The house was unoccupied. There were no injuries to any of the firefighters on the scene. A dollar estimate or cause of the blaze have not yet been determined. The call came in just after seven a.m.
Browning Avenue was closed for a while and down to one lane most of the morning.