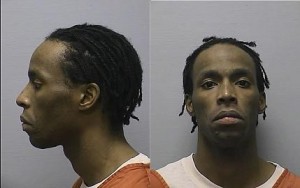 A Junction City man has entered a plea of no contest in connection with a five year old murder case.
Riley County Police announced Tuesday Mekel McApline, 26, pled no contest Monday to charges that he aided a felon, identified as 29 year old Kenneth Dotson, in the January 2007 murder of Terrell Morris at 1369 Flint Hills Place.
"What (McApline) did was drive the people over there," Lt. Josh Kyle, RCPD Public Information Officer, said. "And then drove them away from the murder. He was also involved in the destruction of some evidence."
Already convicted in connection with the murder in were Kenneth Dotson and Marchello Woods, both 29. Dotson was convicted in 2009 of Voluntary Manslaughter and Firearms charges and is currently serving his sentence with the Kansas Department of Corrections. Woods was convicted in 2010 of Aiding a Felon and is currently on parole.
McApline is currently in jail in Geary County for trafficking contraband and a narcotics related conviction.
Lt. Kyle's comments to Cathy Dawes may be heard in the embedded audio.