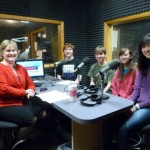 From anatomy and physiology to astronomy, forensics, protein modeling, and the sounds of music—the Science Olympiad has something for everybody. And Manhattan High School continues to have good showings from it's Science Olympiad team, winning in several categories at the recent regional competition held at Kansas State University, Salina. Team member Phillip Dicks says the team is a good-size group, with 15 members on the actual team but several alternates also.
Senior Ethan Pauls says Manhattan high placed first in a variety of areas, including anatomy and Physiology, astronomy, chemistry lab, fermi questions, forensics, helicopters, microbe mission, optics, protein modeling, remote sensing, sounds of music, thermodynamics, and water quality events.
There are other competitions to come, including the state competition and possibly nationals.
And while most high school students probably like to sleep in on Saturdays or just goof off,  team members spend Saturdays in a different way. Courtney Faucett is part of MHS's Science Olympiad team and says the group meets every Saturday. She's involved in the music event, where she builds an instrument and plays it, as well as astronomy.
Team member Qee Qee Gao tells KMAN she's not new to the event, but this year is different. She says she feels the team is stronger this year, with more younger members who are very competitive.