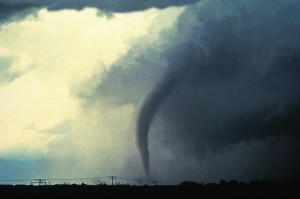 It's every Kansan's nightmare; a surprise tornado ripping through town in the dark of night.
That's exactly what happened to the Wabaunsee county community of Harveyville Tuesday night.
After the EF-2 tornado destoryed 40 percent of the town, Riley County Police Director Brad Schoen received a call from Wabaunsee County asking for any assistance they could give.
"For the next two days, we're going to have six people on at a time in three different shifts of eight hours apiece," Schoen told KMAN. "Just to help them get a handle on things, begin the recovery process, and ensure public safety."
The Red Cross is also going to be giving assistance Harveyville. A group of emergency disaster services volunteers based out of Topeka have set up a mobile kitchen in the community and are providing spiritual and emotional assistance.
Kansas emergency management officials say the tornado that took out a big chunk of Harveyville in eastern Kansas was an EF-2 with wind speeds of 120 to 130 mph.
Sharon Watson, a spokeswoman for the state adjutant general, says 14 people were injured in the tornado. Eight were treated at the scene by EMS personnel and six were transported to Topeka hospitals, where five were treated and released and one remained in critical condition.
The tornado was part of a powerful system that produced multiple reports of tornadoes across the Midwest late Tuesday and early Wednesday, killing at least nine people.