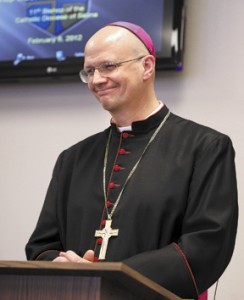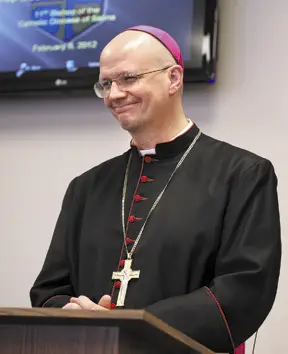 After one year in the making, the Catholic Faith is welcoming a new Bishop to the Salina Diocese.
Msgr. Edward J. Weisenburger, 51, was announced Monday as the 11th Bishop of Salina's Diocese after previously serving as vicar general for the Oklahoma City Archdiocese since 1996. Weisenburger has also been rector of Our Lady of Perpetual Help Cathedral in Oklahoma City since 2002.
He is the first bishop in the 125-year history of the diocese to have lived previously in the diocese, and his Kansas connection was one of the first things he shared during a Monday afternoon press conference at the Chancery.
"Even though this is a new and surprising turn in my life, it' also very much a homecoming. So I feel very blessed to be called to come here," he said.
Weisnenburger's appointment came as welcome news to many.
"We're so happy to have new leadership," Scott Hulshoff, Manhattan Catholic Schools Principal, says. "It's been a couple of years since we had a bishop, so it's been a long process, but we're excited."
Bishop-elect Weisenburger will be ordained and installed at 2 p.m. Tuesday, May 1, at Sacred Heart Cathedral. Because of limited seating, only a certain number of tickets will be allocated to each parish. However, a public reception is planned from 4 to 6 p.m. at Heritage Hall in the Bicentennial Center.