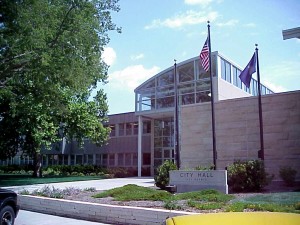 A scaled-back version of an ordinance to address overcrowding in bars was passed Tuesday night by the Manhattan City Commission, giving some powers to the Riley County Police Department to monitor the growing problem.
City staffers presented a proposal that would allow Riley County Police officers to enforce overcrowding violations, which up till now could only be done by the Manhattan Fire Department. The proposed ordinance also called for increased fines of up to $2,500, clarifying the authority of the RCPD to enforce overcrowding, and the ability of an officer to close down an establishment for up to 24 hours after a violation.
So Long Saloon Owner Rob Good, one of several Aggieville business owners present,  was not pleased to see the topic coming back up.
"To see this ordinance back in front of us, it's a slap in the face," Good said. "We are trying to do the right thing and trying to move in the right direction, and now we're facing more government regulation."
Mayor Jim Sherow wanted to make sure everyone understood the concern for safety wasn't just limited to Fake Patty's Day, but was born out of a concern for public safety, citing information from the Manhattan Fire Department about the rising instances of overcrowding. Since September 2011, four overcrowding citations have been issued since the fire department implemented a "no tolerance" approach to violations.
Despite the success of the "no tolerance" policy, officials with the MFD are concerned conditions will grow out of control on major event weekends, such as Fake Patty's Day and K-State home football games. Further, concerns were raised about the feasibility of the MFD patrolling Aggieville every Saturday night, as requested by the Riley County Police Department, stating they didn't have the manpower to keep it up beyond a very short term basis.
Commissioner Wynn Butler supported having an ordinance, saying overcrowding in bars leads to other events the RCPD has to get involved in.
"The whole purpose of this is strictly safety and what overcrowding can cause," Butler said. "The current ordinance we have looks good on the surface, but needs to be re-crafted because it has a couple of problems."
Commissioner Loren Pepperd viewed the ordinance as unfairly targeting the Aggieville area.
"Nobody will ever give an overcrowding (violation) to anybody else except Aggieville," Pepperd said. "That's what this ordinance is. It's just strictly another police power that we're giving to come down on Aggieville. Period."
The Commission eventually settled on removing fine increases and the business closing abilities. The change to allow RCPD officers to enforce violations passed 3-2.