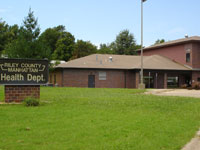 The potential outbreak of Pertussis, or whooping cough, isn't as quick spreading as originally thought, Riley County Health Department Officer, Suzanne Kufahl, told Riley County Commission that people should still be cautious.
"Our communicable disease nurses have investigated 13 cases," Kuhfal said. "There was one more call coming in this morning, but it doesn't seem to be at the fast pace that it was at first."
Out of the 13 reported cases, 5 have been confirmed cases while the other nine have been probable cases or closed.
Kufahl adds vaccincations are the best way to prevent the disease in the future and the best way to protect infants, who are most at risk. She also says her office has had one-on-one contact with all of the day cares and preschools in the community regarding concerns.
Vaccinations are available at the Riley County health department. Appointments are not necessary if you are planning to get a pertussis vaccination.