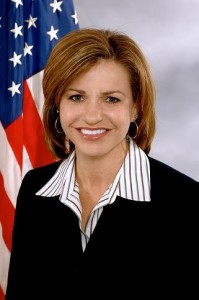 TOPEKA, Kan. (AP) A Kansas Senate committee has endorsed a redistricting bill that is likely to give the state's senior Republican congresswoman a more Democratic district, and move the Manhattan area out of her district.
Reapportionment Committee members who supported the measure Wednesday didn't mention opposition to it from Congresswoman Lynn Jenkins, who represents the 2nd District of eastern Kansas in the U.S. House.
Instead, they said it accounted for changes in population over the past decade while creating relatively compact districts.
But the proposal moves the boundaries of the 1st District of western and central Kansas so that it sweeps in the northeast Kansas community of Manhattan. It also puts all of Democratic-leaning Lawrence in the 2nd District, instead of splitting it between two districts.
Manhattan officials have said they want the community to remain in the 2nd District.