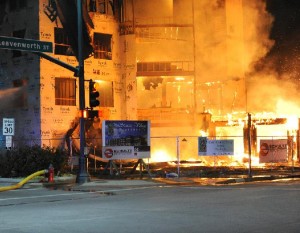 The Bureau of Alcohol, Tobacco, Firearms and Explosives Kansas City Field division is offering a $10,000 reward for anyone who has information leading to the arrest and conviction of the person or persons responsible for the fire at the Strasser Village Apartments.
"People are out there with information that may be able to help us with the investigation," Rose Rozmiarek with the  Kansas State Fire Marshal's Office, tells KMAN News.
The fire occurred on November 6, 2011 at about 2:38 AM.  It is estimated to have caused $2.7 million worth of damage. Rozmiarek says the her office was called in due to the magnitude of the fire, in addition to the large loss amount. The ATF National Response Team was then called in to aid in determining what caused the blaze and whether it was intentionally set.
"The investigation took several days, but is still ongoing," Rozmiarek says. "They are still working some leads but the reward money has been put out there for anyone to come forward with information we don't know of."
Anyone with information about the incident should call ATF at 1-888-ATF-FIRE or 816-559-0710.