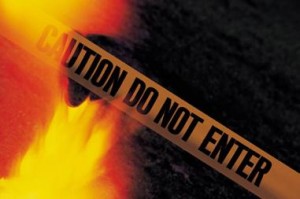 A brush fire meant a lot of work for Riley county firefighters Sunday.
The fire started on Corps of engineers property in northern Riley County spread to private property belonging to Junior Nelson of Randolph. Riley County Assistant Fire chief Doug Messer indicates it was in a difficult area for his firefighters to reach.
"It's about 175 acres," Messer says. "It took us about four hours to contain it."
The fire was still burning when KMAN News talked to Messer Monday morning just before 8 a.m. He assured listeners the areas still burning were in no danger.
"It was mainly burning in areas adjacent to the lake where we can't access it," Messer says.
He says the fire started in an area where people are known to shoot guns and target practice where they aren't supposed to. He adds while not knowing what caused it, a human hand was probably involved.
You can hear the full interview with Messer in the included audio.