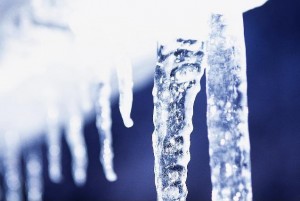 Roads were slick Monday morning as over two inches of snow fell overnight in Northeast Kansas.
Several accidents were reported due to the slick roads Monday morning, although none appeared to involve serious injuries.
Riley County Police indicated a roll-over on the 12th Street Bridge shortly after 10:30 a.m., with one person being transported to Mercy Regional Health center with non-threatening injuries. However RCPD Lt. Josh Kyle adds there were no reports of traffic blockages, traffic control needed or traffic issues as a result of that accident.  RCPD reports most of the accidents Monday morning involved property damage only, with multiple assists of pulling people out of ditches.
The Pottawatomie County sheriff's department reported two accidents on U.S. 24 in the Green Valley Road and Hopkins vicinity. Another was reported on Onaga road. Again, no serious injuries were reported as a result.
The Kansas Department of Transportation reports crews in Northeast Kansas were out treating and or plowing and have been during the overnight hours. Nighttime crews headed home around eight a.m. with daytime crews taking over. Roads in Riley, Pottawatomie, and Wabaunsee counties are reported to be completely snowpacked. You can view current road conditions in Kansas by visiting the KanDrive website.
The National Weather Service in Topeka had reports of 2 inches of snow on the ground as of 7:30 a.m. in Manhattan. Pottawatomie county reported about 2.5 inches.
Some schools in the area were delayed this morning in getting started, with USD 323 Rock Creek calling classes all together. For a listing of closings and cancellations, go here.