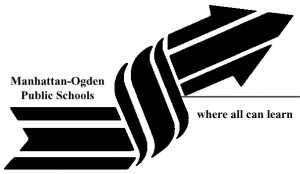 The Manhattan – Ogden school board had a lot to discuss at their regular business meeting Wednesday night.
First on the list was a change order for the Manhattan High school asbestos abatement .  This passes unanimously with a 6-0 vote.
Next up was the bid for the Manhattan High School East project, which was awarded to Farrell Construction of Topeka.  This also passed with a unanimous vote.
All of the technology bids were passed unanimously after Dr. Mike Ribble, director of technology, explained why the equipment was needed.  The items up for discussion included a storage area network, classroom projectors, networking hardware and desktop, laptop and cart purchase.
Board President Doug Messer made a special report to inform the public of National Sever Weather Awareness Week, which will be March 12 – 16.  On Tuesday, March 13th is the state-wide tornado drill.
The board was also given a legislative update.  One bill that has been on the board's mind has been the second count date, but Board Vice President Dave Colburn told the board the bill is no longer on the table.
The student transfers policy and procedures caused a lot of discussion.  After three attempts to get the motion to pass, the first being withdrawn, the second died of lack of support and the third being withdrawn as well, the item was tabled until the March 28th meeting.
National Sever Weather Awareness Week: