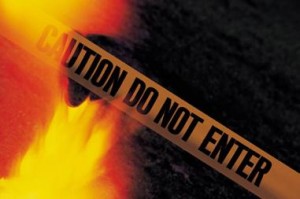 A grass fire in Clay County took several hours to extinguish, after an area farmer failed to report he was burning a field.
Five different rural fire departments with 50 plus firefighters fought the blaze for five hours Monday. Sheriff Chuck Dunn tells KMAN the fire began at 9th and Frontier southwest of Clay Center, but jumped all the way to 12th street, two miles north of Steven Mildfelt's property, where the  blaze began.
Dunn indicates Mildfelt reportedly started burning grass at 9:30 Monday morning, but did not call into the sheriff's office to report he was burning. While Clay county does not operate under the same permit system that some area counties do, it's usually protocal to call the sheriff's office. Dunn says they received their first report of the fire out of control by a passerby, at about 2:30 in the afternoon.
Sheriff Dunn says to his knowledge no buildings were impacted and there were no injuries. He says what made it difficult for firefighters is there were no cross roads during much of the two mile stretch between ninth and 12th streets.