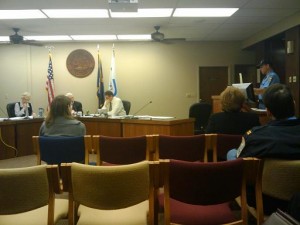 Overall, law enforcement officials are pleased with how Fake Patty's Day went down this year, despite a dramatic uptick in the number of arrests during the Saturday festival.
Riley County Police Director Brad Schoen told Riley County Commissioners Monday morning the total arrests for the midnight to midnight reporting period of Fake Patty's Day was at 86, an 87-percent jump from 2011. However, Schoen also reported the number of citations issued had actually dropped from last year, down 25-percent to 347. Schoen credited early planning and coordination with the bar owners in Aggieville for how the event unfolded.
Riley County EMS Captain David Adams called the 30 hour period starting Friday night and ending Saturday at midnight the busiest they've been in the history of the service, receiving 26 calls for assistance within the Aggieville area and 51 from elsewhere around the county. Nine people were transported for various reasons, almost all alcohol related; that number is down from 20 in 2011. Adams reported the average blood alcohol content for those transported was .333, over 3 times the legal limit. The highest number reported was .485.