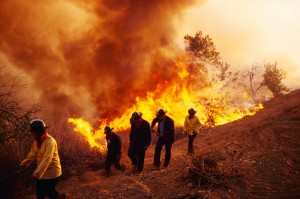 FORT RILEY, Kan. (AP) Fire officials say a grass fire burned more than 2,000 acres near Fort Riley but did no damage to the fort or any of the fort's assets.
More than 40 firefighters from Fort Riley and the Geary County Rural Fire Department fought the blaze Sunday afternoon.
Fort Riley Fire officials say the blaze was a natural vegetation fire but it is unclear how it started.
KCLY News reports the fire occurred at US Hwy 77 and Kansas Hwy 82 along the northwest perimeter of the Fort Riley military training area.
About 2,036 acres burned and fire crews spent nearly 4.5 hours on the fire line.