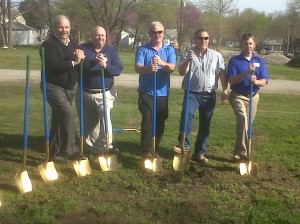 WESTMORELAND, Kan. – Ground was broken on Monday at the site of the new Pottawatomie County jail-courthouse.
The county commission, representatives from KBS Constructors, Inc., and Treanor Architects, among others were on hand for the ceremony.
"We incorporated everybody that's been involved in this because it has been a long process," commission chair Gary Yenzer said. "We invited some of our past commissioners that started this process many years ago. They deserved to see the groundbreaking."
KBS will be handling the construction of the $11.6 million facility, which will be located just north of the current jail.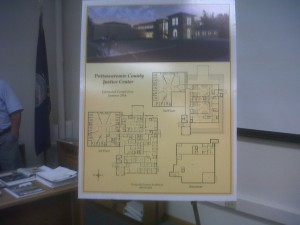 "It's a limestone building so it"ll look a lot like the existing courthouse," Dan Rowe, vice president of Treanor Architects, said. "It ought to fit right in with the campus of buildings already in place."
The project is being broken up into two phases: Phase one consists of the actual building of the structure and transporting of the inmates from the old jail to the new jail. The second phase calls for the demolition of the old facilities and removal of the debris.
Construction will begin in April. The project is expected to take between 14-16 months to complete. Yenzer estimates the facility will be open in July 2013.