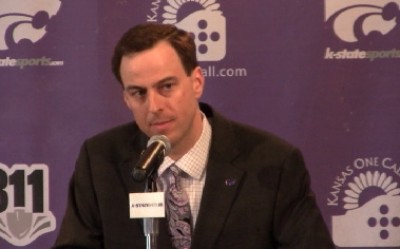 MANATTAN, Kan. (AP) Kansas State athletic director John Currie admitted to having some differences with coach Frank Martin over the years. The two men didn't always see eye to eye.
One thing they agreed on Tuesday: There was no rift in their relationship.
"John has been great," Martin said during a conference call shortly after being introduced as the new coach at South Carolina. "It's unfortunate that I make a difficult decision and everyone's got to figure out a way to blame someone for the decision. That's not fair to anybody."
Currie said he wished Martin well as he tries to turn around the Gamecocks.
"We've always had interest in Frank Martin being part of the long-term fabric at K-State. That started from the time we got here," Currie said during a morning news conference at Bramlage Coliseum, which was attended by university president Kirk Schulz.
Currie said he tried to restructure Martin's contract several times over the course of the season, and that Martin said he wanted to focus on his team. Currie even made a last-minute pitch on Monday, when Martin called to inform him that he would accept the offer from South Carolina.
"They wanted me at K-State," Martin said. "That was never in question."
Currie said he would begin the search immediately for a new coach. He would not say whether he has a list of potential candidates and declined to offer a timetable for the hiring, though the relatively late start in the process puts him at a disadvantage.
This will be the first time Currie has hired a coach of a major sport since taking over in 2009.
"Transition is part of life," he said. "I completely understand how much many of our fans appreciate Coach Martin. I, too, share that appreciation."
Currie has been widely criticized for Martin's decision to leave an up-and-coming basketball school for one with scant success in a league known primarily for its football.
Much of that stems from the public perception that a rift had developed between the athletic director and the high-profile coach, and the relationship became fractured to the point that it could no longer be repaired during the third round of the NCAA tournament.
That's when senior forward Jamar Samuels was suspended for the Wildcats' game against top-seeded Syracuse for receiving impermissible benefits. Martin stood in his player's corner before and after the game, while Currie said he did everything possible to get Samuels cleared to play.
"There was a violation of NCAA rules in that circumstance," Currie said, alluding to a receipt for a wire transaction that showed up in the Kansas State compliance office, ultimately triggering a hasty investigation that could not be completed by the start of the game.
"It would have made my weekend a lot better if a receipt hadn't shown up in our compliance office," he said. "Once it came into our possession, for us to do nothing would have risked the integrity of the institution, the integrity of our men's basketball program."
Currie refused to elaborate on the suspension citing privacy laws.
Martin said several times that he did not leave Kansas State because of the Samuels incident, and that South Carolina simply offered a "new challenge." It wound up being a big enough challenge to leave a school that gave a nondescript assistant the chance to be a head coach.
"I don't make decisions based on one experience," he said. "Jamar might have played and we might have won and I still might have made this decision. The decisions I make and everything I do does not have a single thing to do with the decision that anybody else makes.
"In life you go through things and sometimes for no reason whatsoever, a new opportunity, a new challenge gets put in front of you, you make a choice," he said. "That doesn't mean one choice is better than the other, one place is better than the other."
Schulz said he had not spoken to Martin in several weeks, even while the Wildcats were making their NCAA tournament run, and refused to speculate on the reasons for Martin's departure.
The president did say that he supports Currie's leadership.
"He has good working relationships with our coaches. Are there disagreements at times? Absolutely," Schulz said. "We're going to be judged by the quality of individual that we bring in, but I feel good that we have the right guy to go out and find somebody."