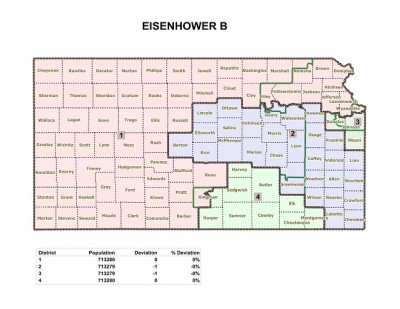 A new redistricting map coming out of the Kansas House of representatives committee has Pottawatomie county, including the Manhattan portion, in the First district, while the Riley county part of the city stays in the second.
The continuing issue for lawmakers remains shifting the maps to boost up populations in the mainly rural First District, which has seen a sharp decline in the last 10 years as more and more Kansans opt to live in the bigger cities in the eastern half of the state.
"And so we've had several votes now," Rep. Richard Carlson (R-St. Mary's) tells KMAN. "One map that has been proposed did pass on a tie vote, with the chairman of the committee voting in favor. So that how close those maps are."
Carlson attempted to introduce a map which kept the Manhattan area more cohesive, but it didn't make it out of the House committee. Under the map that did pass out of committee, northern Riley county, all of Pottawatomie county, as well as Clay county, would now fall into the First District. Geary county and Fort Riley remain in the Second District, while Fort Leavenworth gets shifted now into the First. The University of Kansas and Douglas county would now be apart of the Third District, effectively splitting up KU and K-State.
Rep. Lynn Jenkins spoke with KMAN News earlier this week, voicing her continued wish to keep Manhattan and Riley county entirely in her Second District, citing the National Bio- and Agro-Defense Facility as one of the key reasons.
Opponents of the new map believe it reduces the voting power of democrats in many areas.