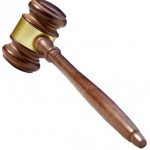 An Ogden woman has been sentenced to 13 and a half years in prison for aggravated battery in connection with a domestic dispute in Ogden and subsequent injury accident in early July of last year.
Elizabeth Heaven, 29, was sentenced in Riley County district court Monday morning to 162 months for aggravated battery, and 12 months for aggravated assault, to be served concurrently.
Heaven was originally charged with attempted second degree murder in connection with the case, but entered a no contest plea to aggravated battery and aggravated assault last month.