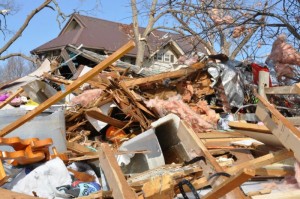 A man who was critically injured by an EF2 tornado that struck Harveyville, Kan., Tuesday evening has died at a Topeka hospital.
Richard D. Slade, 53, was airlifted to Stormont-Vail Emergency and Trauma Center in Topeka Tuesday night after being pulled from the wreckage of his home. He remained in critical condition and the decision was made Wednesday afternoon to take him off life support. Slade passed away Wednesday evening.
Five other people treated at hospitals after the tornado have been released. Eight others were treated in Harveyville after the storm.
Meanwhile, Volunteers will be able to begin helping Harveyville recover from the destructive tornado.
Emergency officials say anyone wanting to work in the town can check in at the Mission Valley School in Eskridge beginning Thursday.
Only residents were allowed into the town Wednesday after a tornado severely damaged the small Wabaunseee County town Tuesday night.
The United Way says volunteers will need to sign liability release forms. They will receive wrist bands and hear a safety briefing before being taken to Harveyville. The United Ways also says no clothing donations are needed at this time.
The American Red cross is also providing a variety of support services, including a feeding station. Commercially prepared food is being accepted by the Red Cross in Topeka, with donations coordinated there. The number to call is 234-0568.
Additionally, the Red Cross is looking for monetary contributions to it's relief efforts. Those can be made at www.redcross.org, by calling 1-866-990-9910, texting "redcross" to 90999 or by mail at:
American Red Cross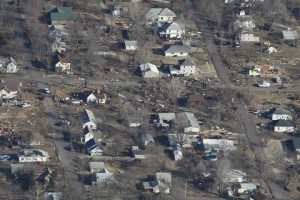 1221 SW 17th Street Topeka, KS 6604 ATTN: Disaster Relief
And the Salvation Army out of Kansas City is also supporting the town, with a team there in a mobile feeding kitchen, and emotional and spiritual support. Financial donations to the Salvation army are welcome and can be handled by going to the website, www.salvationarmy.us or you can call 1-800-SAL-ARMY. Checks may be mailed to:
The Salvation Army 3637 Broadway Kansas City, MO 64111
They ask you designate your donation as "Harveyville Tornado."
As Riley County Police Director Brad Schoen announced Wednesday morning, several from his law enforcement agency were going to assist with
recovery also.
And the North Central Flint Hills Area Agency on Aging is looking into what help they can offer care givers, as well.  KMAN's Cathy Dawes had an opportunity to speak with Executive Director Julie Govert Walter: