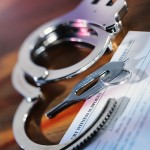 A Riley County police officer on foot witnesses a series of reckless events, resulting in vehicle accidents and two transports.
Around 3:30 A.M. Thursday morning, an officer walking near the intersection of 11th Street and Fremont witnessed a vehicle slide around the corner. The driver was recklessly driving when he ended up in a yard in the 1000 block of Fremont.
The officer attempted to stop the vehicle, but it kept going. After driving through numerous yards, the vehicle entered the intersection going northbound on to 10th street when it struck another vehicle.
The vehicle was next seen in the south alley on the 800 block of Fremont, where it was heading south. The driver failed to stop at the intersection and collided with a police car. Riley County Officer Josh Winkler was in the car and was quickly transported to Mercy Regional Health Center, where he was treated and released for shoulder pain.
After the vehicle finally was brought to a stop, numerous individuals fled the scene, and the driver, Alec Johnson, 24, was taken into custody. The Kansas State student was also transported to Mercy Regional where he was treated and released for ankle pain.
Johnson was charged with aggravated battery, DUI, and two counts of leaving scene of an accident. He was still confined in the Riley County Jail as of Thursday morning with a bond of $5,000.