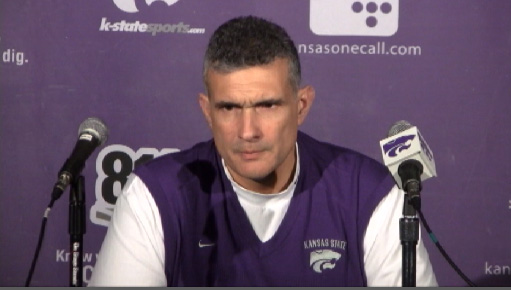 Frank Martin is leaving Kansas State after five years as head coach to be the next head coach at South Carolina.  ESPN.com reports that Martin confirmed the move in a text message Monday evening to Andy Katz.  South Carolina has scheduled a press conference for mid-morning Tuesday, at which time they will likely introduce Martin.
The State, the daily newspaper in Columbia, SC reported earlier Monday that Frank Martin will be the next head basketball coach at the University of South Carolina.  Multiple sources tell the paper that Martin could be hired as soon as Tuesday as the Gamecocks' new head man. A South Carolina board of trustees' meeting is scheduled for Tuesday at 10:00 a.m. eastern time, to discuss a "contractual matter. "  The Kansas City Star is reporting that Martin and South Carolina have agreed to a deal in principle.  CBSSports.com though cites sources that a deal is not done between Martin and the school, and to call it so would be "premature."
Martin was 117-53 in five seasons at K-State, and has led the Cats to four NCAA tournament appearances including a run to the Elite Eight in 2010.  South Carolina fired Darrin Horn earlier this month after four years at the helm with a record of 60-61, with a mark of 10-21 and a last place finish in the SEC this past season.
KMAN's Matt Walters and Rob Voelker had a chance to speak with Andy Shain, The State reporter who broke the story about Martin. That interview can be heard above.