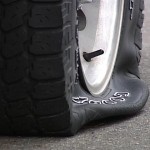 You would think finding two of your tires slashed would be enough bad luck for one day, but for a Manhattan man, it was only the beginning.
Around midnight on Monday, Michael Senn, 28, was leaving Little Apple Lanes when he discovered two of his tires had been slashed.  When he pulled over to address the issue, he was knocked unconscious by an unknown attacker.
When he woke up an hour later, he found that $1,500 worth of property had been removed from his vehicle.  Items missing include a black PV amplifier, two guitars and a Black Samsung Galaxy 2.
Riley County Police are still investigating the robbery.