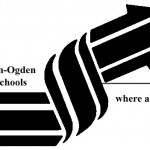 The regular business meeting for the USD 383 school board started off on the usual topic, construction.
Trisha Brooke-Fruendt, program manager, went through a bid for hardware for the remaining schools and facilities , the Woodrow Wilson Elementary restroom and gym ceiling design and change orders for Woodrow Wilson, Manhattan High School East and West.
The board then recognized Mari Jo Massanet, a senior at Manhattan High School, as the Centennial League Player of the Year and Scott Mall, the Manhattan High School Girls Basketball Coach, as the Centennial League Coach of the Year.
The board also had the matter of the vacancy left by the resignation of Doug Messer at their last meeting.
The board unanimously passed the resolution to fill the seat.  They also split the committees in which Messer was a part of and also decided not to have an election for a new president .  Board Vice President Dave Colburn will continue acting as president until July.
The board also had a discussion as to how they were going to go about filling the seat and the expectations for anyone interested.  Colburn asked for a request of qualifications that include a resume and a letter as to why the individual is interested in being on the school board.  Board Member Walt Pesaresi also advised anyone interested to contact a board member to find out what exactly being a member will entail.  Above is the audio from the meeting.
Anyone interested will need to have their resume and letter to Helen Petrik, the Clerk of the Board, by April 24 as the board will meet on the 25th to begin talking about the applicants.