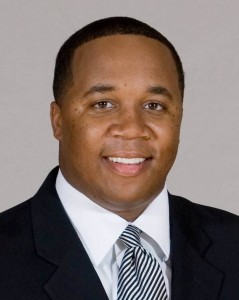 MANHATTAN, Kan. – K-State men's basketball coach Bruce Weber named the first member of his coaching staff on Thursday, as former Southern Illinois head coach Chris Lowery was selected as an assistant coach.
Lowery's specific title and duties will be assigned at a later date, as Weber completes his initial staff.  Lowery's contract details are still being finalized, but he will earn a base salary of $210,000 for 2012-13.
"I'm really excited about Chris joining the coaching staff," said Weber.  "He has been with me at both Southern Illinois and Illinois as an assistant coach and we have a great relationship, which is critical in building a staff.  He is an outstanding recruiter with great ties to the Midwest and will be a huge asset in helping us to establish a great recruiting base.  He also has the added experience of being a head coach for eight years at SIU, which is only going to help me on the bench.  I look forward to K-State Nation getting to know Chris and his family."
Lowery will be reunited with Weber for the third time after serving as his assistant coach for two seasons at Southern Illinois (2001-03) and one season at Illinois (2003-04).  During that three-year period, the duo helped the Salukis and Fighting Illini to a combined 78-22 (.780) overall record, including a 43-9 (.827) mark in conference play, with three trips to the NCAA Tournament, including Sweet 16 appearances in 2002 and 2004.
Lowery arrives at K-State after an eight-year stint (2004-12) as the head coach at his alma mater, Southern Illinois, where he posted a 145-116 (.556) overall record with four postseason appearances, two Missouri Valley Conference Championships and one State Farm Missouri Valley Conference Tournament title.  His teams won 20 or more games and advanced to the NCAA Tournament on three occasions (2005, 2006, 2007), including a 2007 trip to the Sweet 16.  He was twice named the Missouri Valley Coach of the Year (2005, 2007).  He collected a 77-67 (.535) record in MVC play, including four seasons of double-digit victories.
Lowery coached two Associated Press honorable mention All-Americans at SIU, including Darren Brooks in 2005 and Jamaal Tatum in 2007.  In addition, his players earned numerous Missouri Valley Conference honors, including two Players of the Year (Brooks and Tatum), four Defensive Players of the Year (Brooks, Randal Falker, Bryan Mullins twice), two Freshmen of the Year (Mullins and Kevin Dillard) and one Sixth Man Award (Tony Young).  Lowery saw 12 players earn all-conference honors, including five first-team selections.  He also coached 10 players to the MVC All-Defense Team, six to the All-Tournament Team, five to the All-Freshman and All-Bench Teams and four to All-Newcomer and Most Improved Teams.
In addition, Lowery's teams were stellar in the classroom at SIU, as two players earned Capital One Academic All-America honors during his tenure, including first team accolades by Bryan Mullins in 2009.  He also saw two players (Tatum and Mullins) collect MVC Scholar-Athlete of the Year honors, while eight players were selected for the conference's scholar-athlete recognition, including five to the first team.
Lowery has 17 years of college coaching experience, which includes assistant coaching stints at Rend Lake College (1995-97), Missouri Southern (1997-2000), Southeast Missouri State (2000-01), Southern Illinois and Illinois.  He has been a part of teams that have won more than 300 games and advanced to the postseason on eight occasions.
Lowery began his coaching career at Rend Lake College in Ina, Ill., in 1995, where he helped the Warriors to a 20-win season.  He moved to Missouri Southern in 1997, where he worked three seasons for legendary coach Robert Corn, who has won nearly 400 games in 23 seasons.  After winning 13 and 11 games in his first two seasons, the Lions posted a school-record 30 wins in 1999-2000, including 16 in conference play, and advanced to the NCAA Division II Elite Eight for the first time in school history.  He moved to Southeast Missouri State as an assistant to Gary Garner in 2000-01, helping the RedHawks to an 18-12 record before moving to SIU.
Lowery returned to his alma mater as an assistant coach to Weber in 2002, helping the Salukis to a 52-15 (.776) record from 2001-03 with back-to-back Missouri Valley Conference championships and consecutive trips to the NCAA Tournament, including the Sweet 16 in 2003.  He followed Weber to Illinois in 2003-04, where he helped the Fighting Illini to a 26-7 overall record, including a 13-3 mark in Big Ten play, and a trip to the Sweet 16.  Illinois also captured its first outright Big Ten regular season title in more than 52 years.
After a one-year stint at Illinois, Lowery returned to his alma mater as the 12th men's basketball coach at Southern Illinois on April 9, 2004.  In his first year, SIU posted a 27-8 overall record, including a 15-3 mark in MVC play, and Lowery became the youngest coach, at the age 32, to ever win Missouri Valley Conference Coach of the Year honors.  The Salukis won the MVC regular season crown and beat Saint Mary's in the first round of the NCAA Tournament.  Guard Darren Brooks was named an honorable mention All-American by the AP and was both the Missouri Valley Player and Defensive Player of the Year in 2005.
Lowery kept the momentum going in year two, taking a SIU team with no seniors to a 22-11 overall record, including a 12-6 mark in league play, en route to the Missouri Valley Conference Tournament title and another trip to the NCAA Tournament, where they lost West Virginia in the first round.  The following season, he helped the Salukis to their greatest season in school history, as they won a school-record 29 games and advanced to the Sweet 16 in 2006-07.  The squad finished the year with a No. 11 ranking in the ESPN/USA Today Coaches Poll – the highest ever in school history – and earned their highest NCAA Tournament seed (No. 4).  SIU knocked off Holy Cross, 61-51, and Virginia Tech, 63-48, before losing to No. 2 Kansas, 61-58, in the Sweet 16.  Known for its defensive prowess, the squad held 21 foes to under 60 points and finished third nationally in points allowed per game (56.2 ppg.).
Lowery again saw a player earn All-American distinction in 2007, as guard Jamaal Tatum was an honorable mention pick by the AP, in addition to being the Missouri Valley Conference Player of the Year.  Forward Randal Falker was also the league's Defensive Player of the Year.  Tatum and Falker were both first team all-league selections, while Tatum was the Prairie Farms Scholar-Athlete of the Year, which is the MVC's top academic honor.
SIU earned its fifth consecutive trip to the postseason, including fourth in a row under Lowery, in 2007-08, as the squad won 18 games and advanced to the second round of the NIT.  He finished his tenure with 145 wins, which are the fourth-most in school history behind William McAndrew (312, 1913-43), Rich Herren (225, 1985-98) and Lynn Holder (175, 1946-58).  He is the third K-State coach to have served as a head coach at SIU, following all-time wins leader Jack Hartman, who posted a 142-64 (.689) record as the Salukis' head coach from 1962-70, and Weber, who led SIU to a 103-54 mark from 1998-2003.
Lowery was a standout player for legendary Saluki coach Rich Herrin from 1990-94.  Known as a scrappy, hustling player, he helped lead a basketball renaissance at SIU, guiding the Salukis to consecutive NCAA Tournaments in 1993 and 1994, including a breaking the school's 16-year drought in 1993.  He helped the school to an 86-37 (.699) mark during his tenure, including four postseason appearances and two Missouri Valley Conference titles.  He scored 1,225 points and dished out 391 assists in his career.  He earned a bachelor's degree in physical education from the university in 1995.
Lowery has also some international coaching experience with USA Basketball, where as an assistant with the Under-19 team won the Gold medal at the 2009 World Championships in New Zealand.
A native of Evansville, Ind., Lowery, 39, was born on July 7, 1972 and attended Harrison High School.  He and wife, Erika, have four children, Lexis, C.J., Kahari and Jazmyn.