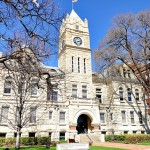 Kansas district courts will be having breaks in service starting this Friday that will last until early June.  This is being caused by a lack of funding for the courts due to falls in revenues generated by court filings.
Riley County Court Administrator Lanna Nichols says there's a shortfall in  court fees, which are derived from the administrative fees given to the court administration. Nichols says the Kansas legislature didn't find a solution in time to prevent court closures.
The closures will cut around 1500-hundred court workers salaries by approximately 10 percent.  Judges will not be affected as their incomes are protected by state statute.
Kansas district courts will be shut down for five days starting on Friday the 13th, and every other Friday  until June 8th.
The courts will reopen for emergencies, and urgent cases.  The funding issue will be brought back to the Kansas legislature when they resume sessions.
Nichols also announced Monday the retirement of Judge Paul Miller, who has served Riley county district court for about 30 years. Miller plans to retire June ninth.