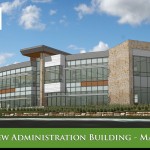 The new Frontier Farm Credit Administrative building is set to begin construction after about an eight year wait.
President and CEO Doug Hofbauer explains they needed the facilities for the customers before the headquarters could be upgraded, and  explained  they have outgrown their current building .
The new facility is located at the corner of Vanesta Drive and Kimball Avenue.
85 people participated in the ground-breaking event Wednesday.
"We are pleased to be on this site today to begin the construction of our new administrative building," said Doug Hofbauer, President/CEO, Frontier Farm Credit. "Since the formation of Frontier Farm Credit more than 12 years ago we've grown to over a $1.4 billion asset company employing 130 staff, serving our customers with loan and related services including crop insurance, tax, records and accounting, and appraisal services.  We are a growing company because we serve the vibrant and growing industry of agriculture.
"When completed," added Hofbauer, "we will have provided new or remodeled facilities that are efficient and effective for all of our employees in each of 6 regional locations and now in the administrative location in Manhattan. We're pleased to be a part of Manhattan, located near a number of agricultural leadership and commodity organizations and to Kansas State University, a thriving university with strong ties to Kansas and US agriculture. This location is visible and accessible and we've been very pleased with the cooperation and support the Grand Mere team has given us during this process."
The 24,000 square-foot building will house 50 employees, with room to grow. Designed to connect with the surrounding landscape of the Flint Hills, the exterior utilizes warm tones of brick and limestone that tie back to the natural materials found in the area.  The $8.6 million investment includes construction and design costs as well as furnishings. Completion is planned for fall 2013.