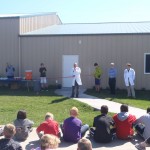 Flint Hills Christian school has a new science building. A grand opening was held Monday morning for the new facility.
Deanna Likes is the marketing/fundraising coordinator at Flint Hills Christian school, located at 3905 Green Valley Road.  She says it's been a collaborative  effort between the Administration and a lot of parents.
Administrator Frank Leone tells KMAN traditional lab counters are just part of the new facility.
The school has been working on the building for two years.