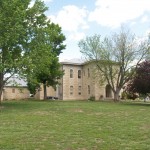 A Salina man was sentenced to nearly three years in prison in connection with a three county chase last October involving a semi he was driving.
Robert Smith, 55,  was remanded in Pottawatomie County Court to serve 32 months. In addition, when Smith is eligible for release he will be on post-release supervision for two years.
Smith entered a no contest plea last month to attempted aggravated battery of a law enforcement officer and aggravated battery.
He was originally charged with several other counts in the case, including attempted second degree homicide. The chase began near Topeka, but ended up in Pottawatomie County, with several injuries reported as cars were forced off the road.