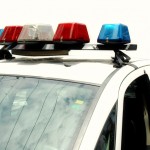 The name has been released in a fatal Marshall county accident this past weekend.  Robert Studer, 48,  of Beattie died in the accident, which involved a '99 Harley Davidson motorcycle.  Studer was not wearing a helmet.
The Kansas Highway patrol released details Monday morning regarding the Saturday evening accident on highway 77, just east of Blue Rapids. Studer's motorcycle was eastbound on highway 77, when the cycle left the roadway, struck gravel, and Studer lost control, striking a guardrail.
The accident was reported just before eight Saturday evening.
And in Riley county an accident early Monday morning sent an Oklahoma man to Mercy Regional Health Center. Dustin Giddens, 19,  was injured in that accident on Stagg Hill Road at 2:15 in the morning, which occurred when he swerved to miss a deer.
And traffic was reportedly halted on I-70 for at least 40 minutes after an accident in Riley County, which sent K-State student Casey Mason, 23, of Olathe to Stormont Vail in Topeka, where he is reported to be in fair condition. The driver of the vehicle was Renard Davis II, 22, of Manhattan.