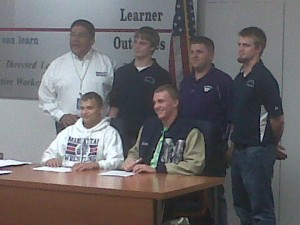 MANHATTAN, Kan. – Two Manhattan High School wrestlers signed national letters of intent to Colby Community College on Thursday at the Robinson Education Center.
Seniors Brian Wood and Percy "Tre" Davis were joined by family, friends, and teachers as they made their commitments to continue their wrestling careers. The two helped lead Manhattan to its third state title in school history with their efforts at the 6A state championships at Hartman Arena in Wichita this past season.
"I'm not surprised that they're continuing their careers," Manhattan wrestling coach Bob Gonzalez said. "They both had expressed interest a year ago when Dane Norris and Zach Vesta had made that decision to wrestle."
Gonzalez's son Tyler, who just completed his first season as an assistant coach at Colby, was instrumental in the recruitment of Wood and Davis.
"He recruits this part of the state and he also gets to recruit Missouri and Nebraska," Gonzalez said. "Being on the staff there, he heard me speak about these boys a lot. He had an interest in a number of our wrestlers."
That was the ultimate selling point for Davis.
"Being able to wrestle under Bob Gonzalez's son was big," Davis said. "It still pushes me as a person to keep wrestling and to keep going."
Both boys faced challenging moments throughout their four-year careers at Manhattan. Wood endured a season-ending knee injury during his junior campaign. Davis missed the entire spring semester of his sophomore year after being declared academically ineligible.
"For both of them to suffer difficulties in their high school careers and to wrestle at high levels their senior year, earn medals, and stand on the podium … that will stick out in my mind," Gonzalez said.
Davis went 27-10 this past season. He advanced to the 132-pound semifinals before falling to eventual state champion A.J. Hurtado of Garden City en route to a fourth place finish.
Wood posted a 36-7 mark in his final year as an Indian and was the runner-up to Wichita Heights' Matt Reed in the 170-pound state championship. The lessons Wood learned from his head coach will be something he takes with him on his way to the next level.
"He (Gonzalez) taught me how to be a man," Wood said. "He taught me respect and how to become the best person I could be."
Both Davis and Wood intend to stay involved in the sport after their stints at Colby. Davis says he'd like to coach at some level after junior college. Wood hopes to transfer to a four-year institution to finish out his wrestling career. For now, though, the goal is to make it to May 20: graduation.
"I feel very gratified that the boys, all nine of my seniors, will walk across the stage and get their diplomas," Gonzalez said. "I think as a career educator that's the most valuable lesson."