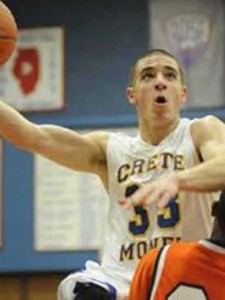 By Tom Gilbert
KStateSports.com
(Original Story)
MANHATTAN, Kan. – Kansas State head men's basketball coach Bruce Weber announced a pair of roster moves on Tuesday, including the addition of high school point guard Michael Orris(Crete, Ill./Crete-Monee).
"Michael is a great addition to our team," said Weber.  "He is someone I have recruited for some time and I signed during my time at Illinois.  He's a pure point guard and fits everything you want in the position.  He's an excellent passer, knows how to play and is very competitive.  He helped lead his high school team to its best finish in school history as a junior and played with some great talent.  He is a quality individual for our program."
A 6-foot-2, 180-pound point guard from Crete, Ill., Orris comes to K-State from Crete-Monee High School, where he earned honorable mention Class 4A all-state honors as a senior for head coach Tom Cappel in 2011-12.  He helped the Warriors to an 18-8 overall record and a berth in the Illinois High School Association (IHSA) Regionals this past season.  He averaged 11.0 points and 4.0 assists as a senior.  In addition to all-state honors, he was named second team all-area by The Times of Northwest Indiana and to the All-Southland Conference team.
As a junior, Orris averaged 10.2 points, 6.2 assists and 3.0 rebounds, leading the Crete-Monee to a 25-4 overall record and the school's first-ever sectional championship.  The Warriors won the South Holland Thornwood Sectional, defeating Harvey Thornton in the title game to advance to the super-sectional of Class 4A.  He earned honorable mention All-State honors from theChampaign-Urbana News-Gazette as well as Southtown Star All-Area and All-Southland Conference honors.  He connected on 50 percent of his field goals, including 39 percent from 3-point range, and 75 percent from the free throw line.
Orris played two seasons at Crete-Monee after transferring from Palatine where he played his freshman and sophomore seasons.  He averaged 9.5 points, 3.4 assists, 2.6 rebounds and 1.5 steals in his final season at Palatine in 2009-10.  He also played for the Illinois Old School AAU program coached by Scott Lidskin.
Orris originally signed a National Letter of Intent with Weber at Illinois and was granted his release by the school last month.  He selected K-State over a number of scholarship offers, including Marquette, Pittsburgh and Virginia.
Weber also announced that rising senior forward James Watson (Atoka, Okla./Stringtown) has been granted a permanent medical exemption and will no longer be a part of the men's basketball team.  He will continue to receive financial aid and remain a full-time student at K-State working towards his degree.
Due to various injuries, Watson played in just one game during his K-State career, a three-minute stint vs. Southern Illinois at the Hawaiian Airlines Diamond Head Classic on Dec. 22, 2011.  He came to Manhattan after a one-year stint at Cowley (Kan.) College in Arkansas City, Kan., where he averaged 10.4 points and 6.1 rebounds per game in 2010-11.  He spent his first two years at Washington State (2008-10), redshirting as a true freshman in 2008-09.
K-State will return at least seven players with starting experience in 2012-13 under new coachBruce Weber.  The Wildcats posted a 22-11 overall record this past season, including a 10-8 mark to finish fifth in Big 12 play, and advanced to the NCAA Tournament for the fourth time in the last five seasons.  It was the school's unprecedented sixth consecutive 20-win season and sixth straight appearance in the postseason.