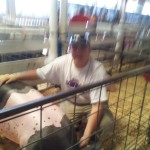 The Riley County Fair is in full swing as the animals are getting ready for show and exhibits are being put on display.
"We just kicked off our quilting expo," said Ginny Bernard,a Riley County Extension Family and Consumer Sciences Agent.  "So people can come check out the quilts that we have hanging up inside."
The parade has passed and one night of the rodeo is complete, but Friday and Saturday are still packed full of activities.
The animals are also taking stage as the judging contests will run all weekend.
"It takes a lot of hard work," said Reid Shipman, a 4-H ambassador.  "I mean everyone thinks it's really easy, but it takes a lot of time."
Even during the weekend, there is still things to do for the animals.
"When you come here, you rinse them, you blow dry them, you take care of their hair, you feed them and then you just watch them the rest of the day," said Gabby Bond, who was out to show her steer, Leon, at the fair.
If animals aren't your thing, the Ottaway Amusement Carnival will be set up until Monday and there is still the rodeo to see, along with so many other things.