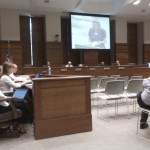 It's always nice to hear a favorable audit report, and Riley County law board members heard just that from CPA Carol McCullough of Reese and Novelly, P.A. at their Monday meeting. McCullough  says her firm gave the Riley County Police Department's budget a clean opinion, unqualified, on the financial statements.
McCullough did warn the law board members that things are changing when it comes to audits though, with tougher standards. Board members, which barely had a quorom at Monday's meeting, did approve a resolution waiving the requirements of Generally Accepted Accounting Principles, as had been done in past years.
Mental Health Transport costs were presented to law board members, as the group continues to consider the possibility of the formation of a working group in the fall on mental health issues. The costs of such transports over the last four years have varied from 26 transports at a cost of nearly $8,991.43 so far this year , to as many as 49 in 2010, with a cost of nearly $16,241.02. Law Board member Wynn Butler praised the report, but also asked RCPD Director Brad Schoen about more intangible costs. Law Board Chair Karen McCulloh mentioned severe financial cuts at the state level, saying some of these numbers may serve as ammunition when bringing the matter to the attention of state officials.
A matter that involved some discussion at a recent Manhattan City commission meeting was settled pretty quickly at Monday's board meeting. Commissioners had talked about RCPD taking over the $5,000 allocated for Crimestoppers previously handled by the city. And RCPD Director Brad Schoen indicated no problem with that, when asked by Mayor Loren Pepperd, who also serves on the law board.