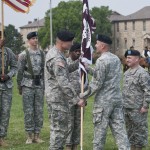 Soldiers and civilians with the Fort Riley Medical Department Activity bid farewell to Col. Michael Heimall and welcomed Col. Barry Pockrandt during a change of command ceremony the end of last week on Cavalry Parade Field.
Brig. Gen. Dennis Doyle, commander, William Beaumont Army Medical Center at Fort Bliss, Texas, presided over the  Friday ceremony.
In a traditional act that represents a symbolic transfer of leadership, the MED-DAC colors were passed from Heimall to Pockrandt, who will now lead Irwin Army Community Hospital's Soldiers and civilians in providing health care to the community.
Heimall has been the MED-DAC commander since July 2010, and is departing for a new assignment as the chief of staff for Western Regional Medical Command at Joint Base Lewis-McChord, Wash.
Pockrandt served as the commander for the Army Health Clinic, U.S. Southern Command, in Doral, Fla.