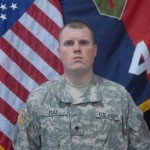 A Fort Riley Soldier has died in Afghanistan.
Sgt. Erik May, 26, was found unresponsive and later pronounced dead at a medical facility in eastern Afghanistan on July 14. The cause of death is under investigation.
May was an infantryman assigned to 2nd Battalion, 16th Infantry Regiment, 4th Infantry Brigade Combat Team, 1st Infantry Division which is currently deployed in support of Operation Enduring Freedom. This was May's second combat deployment with the 'Dragon' Brigade. He deployed to Iraq with the brigade headquarters in 2009.
An Independence, Kan. native, May joined the Army in September 2007. He was assigned to Fort Riley in February 2009.
May's awards include an Army Commendation Medal, an Army Achievement Medal, the National Defense Service Medal, the Afghan Campaign Medal with one campaign star, and the Iraq Campaign Medal with one campaign star.
U.S. Senator Jerry Moran has released the following statement…
"All Americans will forever be indebted to Sgt. May for his service on our behalf," said Senator Moran.  "My deepest sympathies go out to his family, and I ask all Kansans to join me in remembering his family and friends in their thoughts and prayers during this difficult time."