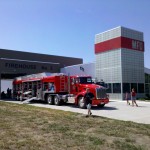 Saturday, July 28, was the beginning and ending of Fire House No 3.
Opening in 1968, the old Fire Station No 3 was located at 3131 Anderson Ave.  Forty-four years later, the old station shut down to allow the new Fire House No 3 to open.
At the opening ceremony on Saturday, the Manhattan Director of Fire Services, Jerry Snyder, made a few remarks before opening the building to the public.
In attendance at the opening was Mayor Loren Pepperd and Manhattan City Manager Ron Fehr, along with a number of other visitors and guests.
After remarks were made, people meandered around eating cookies and drinking tea or water as they examined the new building.
Out front were vehicles and personnel to talk about them, as little kids were given the opportunity to get behind the wheel.
The building itself was made to be energy efficient and also to be used as an emergency response center if the time ever came.
Fire House No. 3 and the soon to be completed Fire House No. 5 are the two newest additions to the Manhattan Fire Department.  They were created to reduce response time for certain locations of the town that are continuously growing. 
Fire House No. 3 will be able to work quickly for those in the southwest part of town and Fire House No. 5, which should be completed in late August or early September, will cover the northwest part.