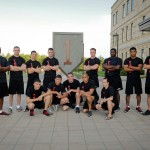 By Amanda Kim Stairrett
1st Inf. Div. Public Affairs
FORT RILEY, Kan. – The Fort Riley Combatives Team was given one mission: Win.
Command Sgt. Maj. Miguel Rivera, Fort Riley's senior noncommissioned officer, met with team members last week as they took a break from training. He reminded them of the Warrior Ethos and encouraged them to never quit, support each other and represent their units well.
 Next week, 15 Soldiers from units across the 1st Infantry Division at Fort Riley will fight in an effort to be named the Army's best. Fort Hood, Texas, is hosting the U.S. Army Combatives Championship for the third year. Fort Benning, Ga., the home of Army combatives, previously hosted the tournament, but Fort Hood took over those duties once its team took top honors.
 Weigh-ins are set for July 25 and preliminary rounds start July 26. Rounds and fighting levels progress each day with the final rounds in each weight class set for Saturday.
This year's Fort Riley team is a mix of veterans and newbies who have fighting backgrounds that range from wrestling to boxing to Taekwondo, to Muay Thai to Krav Maga to Brazilian jiu-jitsu. Some joined the team after doing well in the Victory Week Combatives Tournament last month at Fort Riley and some were chosen after walking into the gym and proving themselves on the mat.
Fighters Sgt. Juan Martinez of the 1st Battalion, 28th Infantry Regiment, 4th Infantry Brigade Combat Team; Sgt. Justin Overton of Division Headquarters and Headquarters Battalion, 1st Infantry Division; Cpl. Marcus Terry of the 4th Squadron, 4th Cavalry Regiment, 1st Heavy Brigade Combat Team; and Spc. Anthony Hopkins of the 299th Brigade Support Battalion, 2nd Heavy Brigade Combat Team, have competed with the team before.
The Soldier with the most time spent fighting for Fort Riley's combatives team is Staff Sgt. Lonnie Kincaid, a 6-foot, 7-inch construction equipment repairer assigned to the 1st HBCT's 1st Engineer Battalion. He will compete in the top weight class: 235 pounds and up.
The team's lightest fighter is also its only woman. Spc. Stephanie Kline of the 601st Aviation Support Battalion, Combat Aviation Brigade, joined the team more than two months ago when she walked into the gym and asked about competitions, said Staff Sgt. Bill Graham, head coach.
Despite the weight and strength challenges, Kline had the heart and drive to want to train with male Soldiers. If she uses good technique at Fort Hood, she'll be just as good as any male competitor, Graham said.
Kline, a 5-foot, 1-inch avionic and survivability equipment repairer, is only the second woman to fight on the Fort Riley Combatives Team. The first was in 2010 — a Reservist named Tanya Pangelinan.
Another new team member and the lone officer representing Fort Hood next week is 1st Lt. Brennan Deveraux of the 1st Combined Arms Battalion, 63rd Armor Regiment, 2nd HBCT. Deveraux recently earned his blue belt in jiu-jitsu and joined the team about six months ago after training with the team for physical training and during lunch breaks.
Devereaux, a 25-year-old field artillery officer, participated in jiu jitsu and Mixed Martial Arts competitions during college in Washington state. He is back down to his college fighting weight of 170 pounds, and said he is ready to go.
Devereaux would like to have competed with the team in last year's all-Army tournament, but he was deployed to Iraq.
"I'm actually really excited for it," he said of this year's competition.
With his fighting experience, competitiveness and leadership, Graham is expecting a lot out of Devereaux.
"He is one of my point guys," he said.
Graham, a former airman-turned-Army infantryman-turned-aviation mechanic, is proud of his team and the variety of fighting styles, and he'll call upon those as the Soldiers prepare for Fort Hood. This year's is the smallest team that has ever represented Fort Riley. Training and deployment demands took its toll on the team this year, too, as Soldiers had less time to train together. Full practices to sharpen the new members' skills began this month.
 Team members had to be Soldiers before they were competitors, Graham said.
 Despite the challenges, expectations are high.
 The Fort Riley team has placed in the top three for the last five years, Graham said.
 Past strategies included building up points through submissions in the early rounds, which put Fort Riley ahead when team standings were figured. Fighters plan to do the same this year, Graham said.
 Combatives competitions don't begin with full-out fights. Soldiers begin preliminary rounds with grappling and other submission and take-down moves. Those who make it to the semi-final rounds are allowed to incorporate punches, kicks and slaps. Finals typically take place in a cage and that's when spectators typically see the biggest action — especially when the heavyweight fighters get in the ring.
 If the Fort Riley team can get out of the preliminary rounds with high points, it should be fine to place, Graham said.
 As the team approached the Army's most important combatives competition, Devereaux said there were three big focuses: cardiovascular stamina, correctly making weight goals and formulating game plans.
 "For most, I think we're there," he said. "A few need to finish hashing out a general game plan."
 The team is set to depart Fort Riley on Saturday and spend four days acclimating to the Central Texas climate, getting ready and getting their minds right, Devereaux said.
 "You have to," he said of the latter.
 While the competition starts out "nice and friendly," the physicality escalates quickly.
 "You have to have your mindset right or you're going to get hurt," Devereaux said.
 Even with his fighting experience, Devereaux said he got incredibly nervous during semi-final and final rounds.
 "Win or lose, nobody likes to get hit in the face," he said.
 Graham said the most important thing as the tournament approached was to practice technique and stay motivated. Past success played a big key in that motivation.
 "I think it's the pride of wearing the 'Big Red One' on the fight uniform, and be on that cage or be on the mat and representing Fort riley knowing we placed in the top three in five years," Graham said.