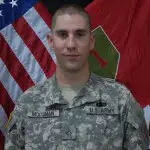 A Fort Riley soldier died earlier this week in Afghanistan.
The announcement came from Senator Jerry Moran's office, with word of the death of  U.S. Army Private First Class Cody. Moosman, wr,  of Preston, Idaho. Private Moosman  died on Tuesday in Paktika Province, Afghanistan, in support of Operation Enduring Freedom.
According to initial reports, Private First Class Moosman died of injuries sustained from small arms fire while on guard duty. He was assigned to B Company, 1st Battalion, 28th Infantry Regiment, 1st Infantry Division, Fort Riley.
Moosman's  family issued a statement Wednesday saying he told them starting in the third grade that he had wanted to be in the Army. He enlisted in 2010.
Fort Riley officials say he arrived at the northeastern Kansas post in April 2011. This was his first deployment.
In an Independence day release, Senator Moran said  all Americans will forever be indebted to Private Moosman for his service and sacrifice. And Moran added his deepest sympathies go out to his family