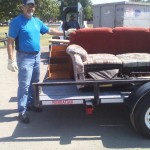 If you drove by Manhattan City Park Friday afternoon, it looked like an outdoor furniture store, with a large amount of used furniture and household electronics on hand. It was part of Free Furniture Amnesty Day, provided by HandsOn Kansas State and Manhattan Good Neighbors.
Student Program Coordinator Amy Gasser tells KMAN the furniture was brought in during the morning, with shoppers arriving in the afternoon. Gasser admits there's a lot of work involved, but connections with the city of Manhattan and Fort Riley has made things easier.
Manhattan's Furniture Amnesty day went well, according to Assistant City Manager Lauren Palmer. She says every year they learn something new, and this was the first year with Fort Riley assistance.  She says the event continues to grow with more publicity, more volunteers, and more donations. Palmer adds not all the free, donated furniture found a home though, with some just needing to go to a dumpster. But she says that's fine too because it keeps our community looking nice.
Manhattan Building official Brad Claussen had his blue jeans and work gloves on Friday, as he helped move loads of furniture during the free furniture amnesty day at Manhattan's City Park. Claussen also says the event continues to get bigger every year.