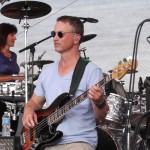 He is known as Mac Taylor from the hit tv show "CSI New York", Ken Mattingly in "Apollo 13", and also as Lt Dan Taylor in "Forrest Gump".
This past weekend, on Saturday, July 28, actor Gary Sinise and his band, The Lt Dan Band, stopped by Fort Riley for a little show.
The performance began at 7:00 pm at the grounds outside the Conference Center on base, but after one song it went quiet.
For some reason, the power went out after the first song, but Sinise didn't let that stop him.  Instead of a concert, as personnel were trying to get power back, Sinise used the time to sign autographs.
He signed everything from a purse, a shoe, a pack of cigarettes , to a diaper, which he said was a first for him when the power came back on.
Throughout the concert, Sinise, who played electric bass, highlighted members of his band, including co-founder of the band, Kimo Williams on electric guitar and vocals, Dan Myers on vocals and violin,  Kirk Garrison on trumpet, Jeff Vezain on acousitc guitar and vocals,  Mitch Paliga on saxophone, Mari Anne Jayme on vocals, Ernie Denov on electric guitar,  Danny Gottlieb on drums, Julie Dutchak on vocals, Ben Lewis on the keyboards,  Beth Gottlieb on the percussion, and Molly Callinan on vocals.
The show was filled with a number of different types of songs.  They played Jimi Hendrix, Rascal Flatts, Kelly Clarkson, Aretha Franklin, Adele, Journey, Lynard Synyrd, among others.
During their rendition of "Life is a Highway", Sinise allowed the children in the audience on stage with him, where they sang and danced.
To end their concert at Fort Riley, the band performed "Proud to be an American" and across the grass where the audience was relaxing on blankets and in chairs they began to stand. 
Sinise has been supporting the military for a number of years and recently he has begun his own foundation that he hopes will give another outlet to help raise money for those who serve. 
Sinise has helped to raise money for new homes for soldiers as part of his foundation.
For more information about him and the foundation, visit garysinisefoundation.org.